Over the years as our company has grown, so have our communication needs internally. In the beginning as a start-up we used Asterisk, it was cheap, and did what we needed for the most part. It was flexible, and could be used with almost any SIP phone you could imagine, and for the most part we used Cisco phones on it. As we grew and started developing a Cisco attendant console replacement we transitioned to using CUCM. There were some sacrifices that were made, non Cisco phones became less useful, call recording was not included, etc. As our attendant console grew so did our functionality on Cisco, phone paging, phone push messages and the like. We explored and added functionality for almost every feature that was available in CUCM.
We found ourselves in a classic spot most companies do, using a variety of products to perform tasks. We had a Cisco CUCM for telephone, GoToMeeting or Webex for product demos we do many times a week, and Talk/Hangouts or Lync for chat. Like most companies it was a real pain to try to tie the data from all these various applications into a cohesive system. At this point we started to slowly use Lync more and more, first in parallel for voice calls with Cisco, in house presentation sharing in meetings, etc. This continued to grow until Lync had taken over the phone audio, presentation, and chat functions all on it's own. This is not uncommon in today's world, and it's a big reason that Microsoft is the most feared competitor in the Cisco UC inner circles. So what in the world does any of this have to do with CID sharing in Lync? Well in our attendant console, which we used and developed on Asterisk, Cisco , and now Lync, we had the nice ability to see who our peers were on the phone with. It was nice if I was helping customer x, but they called in while I was on the phone for additional help I could easily see the peer who grabbed them and either IM him to send the call to me, or IM him info about what they needed and the case details while I was on the phone with someone else. It looked something like this.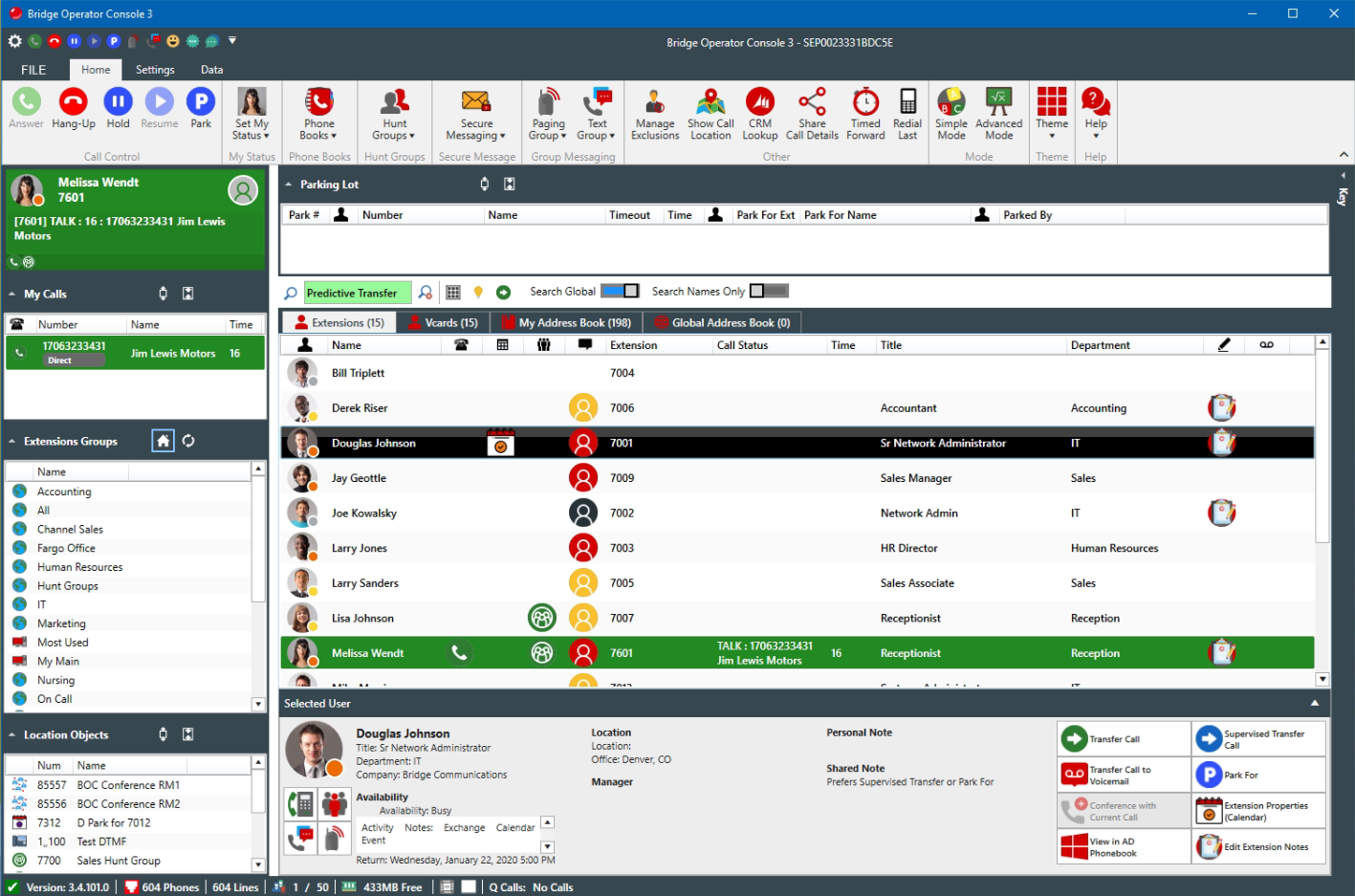 When we transitioned to Lync we were left flying a little blind. The status "In a Call" or "In a Conference Call" was nice, but lacking the details we were used to. We decided to use our BLOC (http://www.bridgeoc.com/lync) infrastructure to allow users to share their CID info with other BLOC users, and be able to see others shared info. The result was this.
As you can see from the graphic above, the Lync client shows "In a Call", but the BLOC users are able to see other BLOC users call status, including who they are talking to and for how long. We think this is a valuable feature in many business scenarios for both operators, call center agents, and department managers.
Doug Routledge, C# Lync, SQL, Exchange, UC Developer