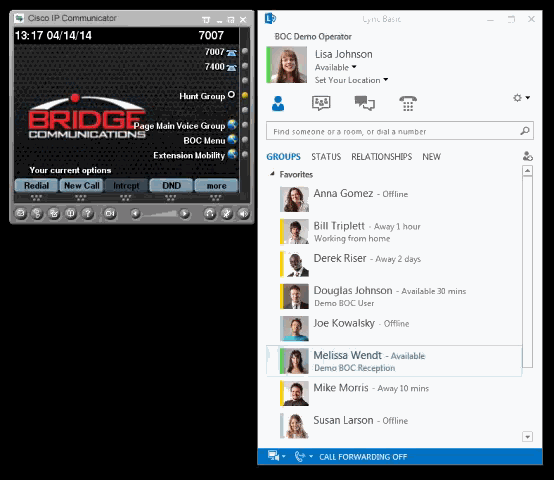 Press Release - Bridge Lync Integration for Cisco CallManager
Fargo, ND –
5.30.2014 – Bridge Communications today announced that its Bridge LICC is officially available to all customers.

Bridge Communications LICC works with the Bridge Communications TAPI Connector for Cisco CUCM, to update the user's Lync status to include any call activity from the Cisco CUCM. In most cases both BOC services can run on the same VM. By combining Lync Presence and CUCM Call Status, Lync users will have real-time visibility to the "on a call" status of the Cisco desk phones. Unlike CUCI-LYNC, BOC LICC does not require any desktop client, or desktop install or configuration, or any desktop piece of software to be running.. BOC LICC runs on a Lync Trusted Application Server. Download MP4
See BOC LICC in the Lync Solution Catalog


Features

1. Server based, no need to touch and update every desktop
2. No plugins to cause issues in local Lync clients
3. Show calls with CID or just generic "On a Call" indicator.
4. Server service automatically updates itself to stay current.
5. Works with all versions of Lync, and CUCM 6-10.x
6. Returns to last status upon call completion
7. Nothing to reinstall or change as you upgrade CUCM








Watch a Demo

Requirements
Lync 2010 or 2013 on premise, UCMA is currently not support in Lync Online.
BOC Connector Service for phone system.
Pricing
Pricing for BOC LICC is based on the number of Lync clients and breaks down as follows.
Bridge Lync Integration for Cisco CallManager Small Business (0-250 users) $1500
Bridge Lync Integration for Cisco CallManager Intermediate (251-1000 users) $2500
Bridge Lync Integration for Cisco CallManager Enterprise (Unlimited users) $5000

Lync Notifier - Free with LICC Purchase
Get screen pops on new Lync messages, and optionally have them read to you in a variety of voices. You can also initiate chat, voice, and video calls from each message popup. You can customize the messages with your corporate logo too. Customization of the message colors and borders is also available.

Click to Dial
Lync Notifier installs our click to dial function into Lync. From there you can call any numbers stored in a contact from your Cisco desk phone.